Our Streets enewsletter October 2019
Published: 28 Oct 2019
Thank you #RedbridgeBulbs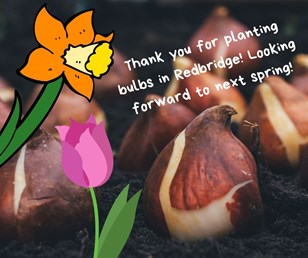 In the last Our Streets newsletter, the Spring Bulb Giveaway was publicised. This was funded by a Community Infrastructure Levy (CIL) grant and aims to beautify our borough through community planting in areas visible to the public.

The scheme was oversubscribed almost immediately as an amazing 127 applications were received.  Just under half were accepted to receive bulbs on a first come first served basis of those applications which met the criteria.

We look forward to sharing spring colour snaps in our forthcoming Our Streets newsletters.

You still have time to plant spring bulbs, for more info see our website.
Bloomin' Businesses
Penelope Wilde outside her shop on Fullwell Parade enjoyed a green fingered moment as businesses and a library adopted planters on Thursday 17 October to make our streets more welcoming and attractive. This project was funded by a grant from the Community Infrastructure Levy (CIL) gained by the Neighbourhood Engagement Team.
Almost twenty businesses in Fulwell Parade, Broadway Market and Claybury Broadway, including the Library, got stuck in to spruce up these local areas whilst having fun and building good relationships.
Do feel free to give a hand in maintaining the planters if it's your local shop and keep an eye out for them!
Next Stop: Hainault Station
The Bloomin' Businesses project also called at Hainault station.
Residents, the 1st Hainault Scouts, Hainault Baptist Church, our planter suppliers and the Redbridge Mayor worked with staff from Transport for London and Redbridge Cleansing Services to install eight planters outside the station entrances plus five planters inside the station foyer on Sunday 19 October.
Enjoy these colourful new additions! They are a community jewel for all to enjoy and care for.
If you'd like to help maintain the planters on an ad hoc basis, please chat to a member of staff at the station.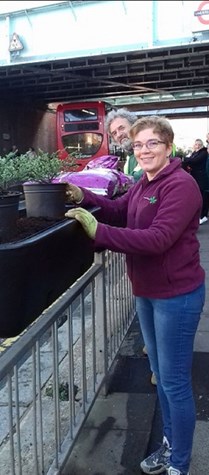 Stephanie Orrell (Neighbourhood Manager North) and Adrian Wager, Contract Manager for our Grounds Maintenance Contractor SH GOSS dig in.
Total Transformation
This incredible transformation in the Ilford area is down to perseverance from our Redbridge Enforcement Officers and a great practical solution from a local land owner.

The piece of unused land had become a fly tipping hot spot but now it's unrecognisable. The Redbridge Neighbourhood Teams are working in four geographical areas in the borough to improve 'Our Streets' by working with residents and business owners in a variety of ways including enforcement and education.

To find out more about our work and to get involved visit our Redbridge website.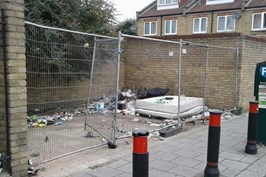 From this to this....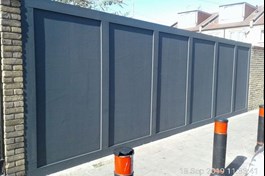 Cup a load of this...
Cold mornings, hot drinks. It's great to grab a brew on the go but disposable cups contribute to on street litter. The plastic used to keep them water tight means they can't be recycled in the Redbridge kerbside or flats collections.

Keep Britain Tidy are leading a campaign to call for a surcharge on single use cups. The alternative is a reusable keep warm cup, there are plenty on the market for a range of budgets. Why not make your brew a more sustainable one this autumn?

To find out more about the Keep Britain Tidy 'Cut the Cup' vist the Keep Britain Tidy website.