Our Streets enewsletter November 2019
Published: 25 Nov 2019

Branching Out for National Tree Week
Redbridge will be celebrating National Tree Week from 23 November to 6 December 2019.
Last year we made successful bids to the Greater London Authority through the Greener City Fund and Community Tree Planting Fund and planted 36 trees at four schools and five public sites.This year we will be planting 50 trees at nine schools and three public sites between the 25 November 2019 and the 6 December 2019.
We would love you to join us in planting trees at the following public event:
Merlin Close IG6 3XL and Kestrel Close IG6 3XT at 10:00am to 12:30pm on Saturday 30 November
Just turn up in appropriate outdoor gardening wear and bring your flask of tea - we'll bring the biscuits!
Environmental Action in ESOL classes
Neighbourhood Officer Laki has been working with Redbridge Institute 'English as a Second Language' (ESOL) classes to bring information about environmental action to students. The first session was very well received - with Laki very impressed with student's English, and students inspired by Laki's tips and instructions on energy saving, composting, recycling and how to book a free bulky waste collection!

We are looking forward to rolling the ESOL Environmental Awareness classes out across the borough next year! Here's a sample slide from the presentation which is a great tip for those winter utility bills: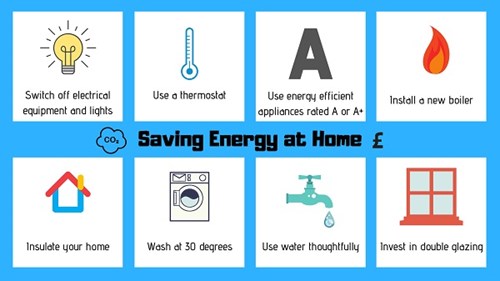 Sharing Our Streets
Our homes can be places of noisy celebration and quiet relaxation. However, some Redbridge residents live with excessive noise from neighbouring businesses and people.

There is a current consultation from the Community Protection Team on the proposal to establish a new way for residents to report Noise Nuisance via a mobile phone application. The mobile app would allow residents to record their own evidence of noise nuisance and send it directly to the team to evaluate and respond.

As part of this consultation, the team are seeking your views on how they best support this section of the community and would love to hear from you by the 28 January 2020!

Please help by completing our online form
Our Youth Paving the Way
Young people in Redbridge are passionate about Climate Change and some formed a group called 'Greener Redbridge Environmental Youth' (GREY) to make a positive change to their environment. They decided that their first project would be a litter pick to raise awareness and they were not deterred by the rain! They are planning to use the litter they collected to produce a sculpture that will be shown in the new SPACE at the back of the Town Hall on Monday 9 December. 
 
Amelia who took part said: "It made me content as I felt that I was doing my part and making a change. The encouragement from the public made it 100 times more worthwhile".
Fab news for Redbridge Play Streets
Via a Lottery Funded project, Redbridge will be gaining a 'Play Starter' to help build the ever growing number of Play Streets in the borough. The opportunity is coming through the organisation London Play who are currently recruiting for the flexible, part time role. Play Streets are opportunities for a community to close a street to cars (property access is allowed with the support of stewards) and let children play and residents mingle.

Once initial set up is done, they are very simple to run and have huge benefits for communities in promoting neighbourliness and health benefits from getting outside.

If you are interested in the role, visit the London Play website for more information.
List-less this Christmas?
The gist of Santa's list:
Lists prevent overbuying
Lists prevent waste of presents, trimmings and food
Lists mean you give and receive gifts you actually want 
Lists mean we don't throw money down the drain...

We throw away an awful lot of stuff at this time of year. A quick internet search will give you lots of ideas to save money and waste. Our top tips are for food planning and correct storing to reduce food waste. Visit Love Food Hate Waste website for more information and remembering the hierarchy of gifting we shared last year....

Enjoy those lists and the festive season! 
The Neighbourhood Team.