Our Streets enewsletter May 2019
Published: 29 May 2019
Get in the right lane- organise a play street for Car Free Day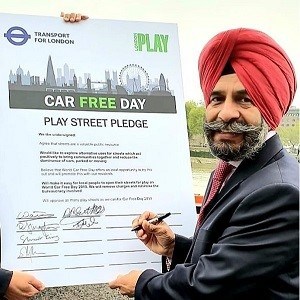 The Council signed the Car Free Day Play Streets pledge with London Play at City Hall to support International Car Free Day by promising to support up to 22 play streets on Sunday 22 September 2019! With 22 wards across the borough we'd love to support at least one play street in each!

We spoke to teachers last week to encourage their schools to sign up.

Find out how to run a regular or one-off event play street starting in September by putting in an application by Thursday 1 August.

If you already run a regular play street, why not get in touch and talk to us about how to run a session on Sunday 22 September?
Angry Rubbish winners announced!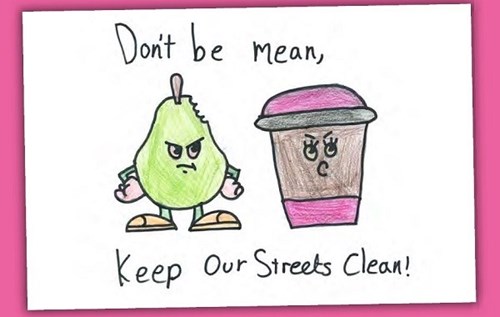 19 schools participated and over 600 entered our Angry Rubbish school poster competition in April and we have finally chosen a winner- Louisa from Glade Primary School created poster with a sassy pear and coffee cup and very clear message which we loved! We'll be gifting Louisa a shopping voucher and a reusable shopping bag to each pupil in her year group with her design printed on it!
Sameera from Grove Primary won second prize and we picked three additional runners up! All these designs will be used across all Redbridge schools to share anti-littering messages. They'll also be used on our new bins cropping up across the borough- so keep an eye out for them.
Going Green Day, Ray Lodge Park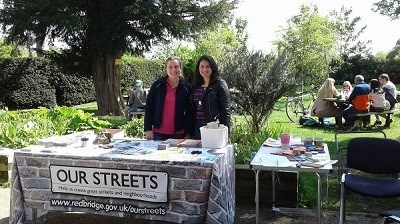 Redbridge in partnership with Vision organised a Going Green Day on Sunday 12 May in the lovely Ray Park in Woodford. Over 100 residents attended including families and children.
We provided information on Home and Worm Composting, Love Food Hate Waste campaign, as well as useful tips on how to cut down on any type of waste in our households and save money. Did you know by managing your food better you can save up to about £800 a year?
London City Airport Community Fund
There is a £75,000 fund available specifically for East London projects that focus on one of the following:


building stronger, safer and healthier communities
creating more sustainable and greener communities
raising aspirations of East Londoners
creating pathways into employment
 
Learn more by visiting the dedicated website and for further information email community.fund@londoncityairport.com
Baxter Road and Galesway Gardens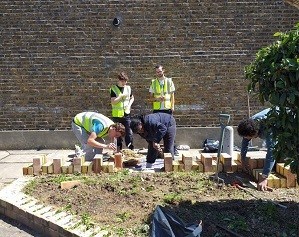 Members of the Loxford and Clementswood Residents Association have started works on the Baxter Road planter. They worked with local apprentices from an East London College to lay new bricks and introduce a new design. They will be starting planting shortly and launching the community garden as part of the Great Get Together on Saturday 22 June!
Residents of Galesway have seen their bulbs blooming on their local residential roundabout after adopting the space earlier this year - fantastic work!
Community films
With thanks to Young filmmaker Isaac Harvey and Chadwell Heath South Residents Association for sharing their fantastic video which demonstrates the excellent work they have been doing.

Isaac created a fantastic short film capturing the spirit of the Great British Spring Clean Community Picnic event that took place last month. Chadwell Heath South Residents Association shared their video which shows them tending to their newly adopted garden taken by a drone- we love the footage!
Young filmmaker Isaac Harvey, created a fantastic short film capturing the spirit of the Great British Spring Clean Community Picnic event that took place last month - thank you for sharing this with us!